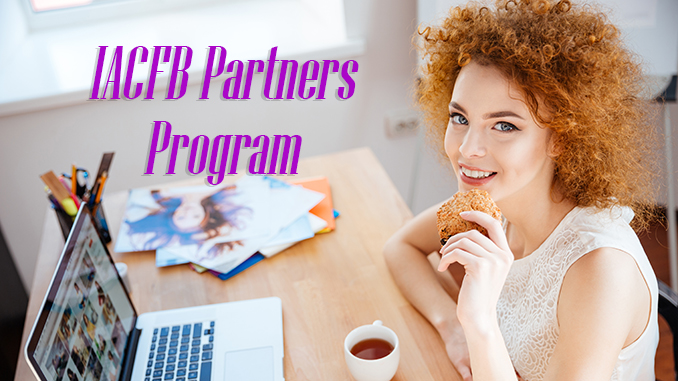 For those seeking a professional home-based business with true unlimited income potential, developing a commercial finance consulting enterprise is certain one of those unique career paths that would make anyone's "Top 10 List".   Commercial Finance Consulting has to be included simply because of the low cost of entry and opportunity when you compare the ratio of Start Up Cost vs. Income Potential.  Many enterprise seekers do wrestle with their training choices once they have discovered factoring and alternative finance as a business, but virtually all other training avenues fall aside when they are compared to the exceptionally low cost of the comprehensive training programs at IACFB Academy.
IACFB's Newest Program…The  Partners Program at IACFB
Industry wide, IACFB has provided training to well over 2,000 industry consultants over the years.  In fact, over 800 freelance brokers alone launched their factoring consultancy by purchasing IACFB's 5-star rated Factoring Broker Training Guide from Amazon.com.  The addition of the expansive Academy Online Courses has now added thousands to that total.  An now, that number will certainly increase even more as IACFB adds their most exciting training and support program designed specifically for both part-time and full time professionals, the Partners Program at IACFB.
An Exciting Career "Bridge" for Consultants
The IACFB's new Partners Program offers an exciting "bridge" between Referral Agent and Freelance Consultant.  It specifically is designed for those individuals that have career intentions, but cannot devote full time to the industry initially due to their current job requirements.  The Partners Program is designed to make the transition to a true career in alternative commercial finance not only possible, but likely in a relatively short time.
Your Special IACFB Partners Website and Domain
Developing your consultancy with the knowledge provided to you at the Academy has limited value without a website that reflects your professionalism. A business in factoring and alternative commercial finance is a perfect home-based enterprise and your website is your showroom!
For members of the IACFB's Partners Program, you will use and work from one of our already operational, powerful eleven (11) page website that has been professionally designed with powerful lead-generation in mind.  In fact, your program website is all ready operating in many selected IACFB domains and is virtually identical to IACFB's wholesale finance website at IACFB.com including its lead-generating VIDEO.  It includes all of the financial solutions we have to offer to cash-starved clients.  As an IACFB Partner we provide your necessary contact information and includes forms designed to "feed" your sales leads into IACFB's Pipedrive Lead Tracking System.
Filling Your Sales Pipeline and Building Your "Leads" Network
Filling your sales pipeline with SQL (sales qualified leads) is essential and IACFB provides you with one of the most powerful tools available to generate an endless stream of leads…your own referral agent network.  Like all consultants, you will build networks of bank loan officers, S.C.O.R.E members, SBDC advisors, and others over time.  That is a given.  But your must productive lead-generating network is your own agent referrer network and Factoring 202 training shows you exactly how to develop this program.  For IACFB Partners, this is essential.  It is a success driven lead-generator that is just as important as a "downline" is to a multi-level marketing.  And…the Partners Program shows you EXACTLY how to begin constructing it.
Company Profile Forms and Deal Closing Assistance
At IACFB, we know that getting your first deals closed as a new consultant is essential to paving your way to an exciting career.  At IACFB, we provide you with assistance in landing your leads and converting them into commission-generating clients.  To assist you further, we now have a new "branded" deal submissions Company Profile that is now included with your custom Partner's website.
Get Started Today
The IACFB Partners program is available in select areas.  To find out more and determine if your area is still available click here.