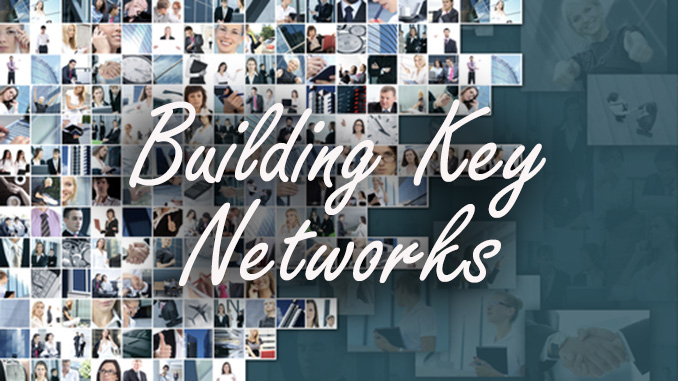 By far, the biggest mistake made by most Factoring 101 Freelance Brokers as well as Sponsored Agents, is not immediately building their "networks".  Most that are new to "consulting" in general do not understand the need to build referral networks,  For our consulting niche, that of business finance consulting and factoring, there is literally nothing more important.  There three (3) networks that are critical to you:
LOCAL  BANKS:  The first stop for almost any business owner when they need capital is their bank.  Unfortunately, only 27% of business loans are approved and even for those, most do not receive to total cash needed.  As a factoring and alternative commercial finance broker, its your job to get the bank's lending officered to refer their "turn downs" to you!
S.C.O.R.E:  is the largest network of mentors for small business owners in the United States and is a resource partner of the Small Business Administration.  SCORE has offices across the United States and provides small business owners with a variety of services, including mentorships, workshops, and other resources.  S.C.O.R.E. consultants can refer you a plethora of early stage applicants for factoring.
SBDC / EDC: Small Business Development Centers (SBDCs) provide free marketing, financing, and business-related assistance to local entrepreneurs. They are found in all states and Washington, D.C., Puerto Rico, and the U.S. territories. SBDCs exist as a partnership between the U.S. Small Business Administration (SBA) and usually a local college or university, with the purpose to help foster small businesses and jobs by providing educational resources to business owners and those looking to start a business.  SBDC / EDC counselors are a powerful source of early stage and start up clients.
Where to Find These "Standard" Referrer Sources
Actually, finding such sources of referrals is very easy…
CHAMBER OF COMMERCE:  Almost all employees and consultants affiliated with the above are members of the local Chamber of Commerce.  If you are also a member, you will build a huge network of those highly valuable referrers in very short order'
LINKEDIN:  As a well know social media resource, LINKEDIN is the place to connect with hundred of individuals in the above groups.  Almost all lending officers of your local banks will have a LINKEDIN accounts.  Every S.C.O.R.E chapter is featured on LINKEDIN.  Chamber of Commerce is NOT free.  LINKED IN is.
Building Your "Personal" Sponsored Agent Referral Network
All successful Freelance Factoring 101 Consultants will build networks of the above.  But what about building their "easiest" network to construct?  What about the network that you already have?  What about your "Friends and Family Network?
While all of the above are essential, your Friends and Family network is just as important to build.  For example, everyone knows a friend or acquaintance that is starting up or expanding their business.  If that is a "friend of a friend" and gets referred to you..you will earn commissions.  That's why its so important to let everyone you know about your business.  And it's easy to to do and especially with IACFB's current "Registered Guest Challenge".   For Factoring 101 Freelancers, this is the easiest way to build your Sponsored Agents network.  Not only can you tell those you know about the commission earning potential in your "NEW" business, but you can also show them how it's done.
And Its FREE
Living in today's inflationary economy means that almost everyone is looking for new income streams.  For some it means a second job.  For others, its passive and related to some online business.  IACFB makes it very, very easy for Freelance Factoring 101 broker to build this all-important network using "Registered Guest 30 Day Training" along with the Sponsored Agents website if they want to take it to the next level.  Building agent networks are the single most important lead-generating method of making certain to succeed as you enter the industry.