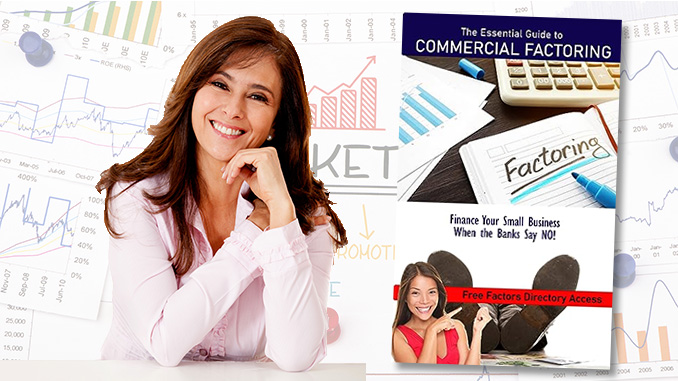 For IACFB Factoring 101 Brokers and Consultants, the NEW Guide to Commercial Factoring is now available on Amazon.com.  This guide is formatted to provide all Freelance Brokers with a powerful new tool for those utilizing the skills we feature in Factoring 202.  This publication provides your business prospects everything they need to know regarding the benefits of factoring and dovetails perfectly with your FB-Series website and your standard PDF booklet as an "offer".  Purchasers of the new Commercial Factoring Guide from Amazon additionally will have "limited" access to:
The IACFB's Directory of American Factors and Lenders
The Directory of IACFB Factoring 101 Consultants and Partners
Access to the Directory of American Factors and Lenders
Small business owners purchasing the new Amazon guide will have a "special" limited access to the IACFB Directory of American Factors and Lenders.  This provides guide readers with access to a list of approximately 200+ domestic factors with direct links to their websites.  It does not provide them, however, with the detailed listing (Lender Spotlights) available to you in the magazine. Access to this directory REQUIRES a password which is provided in the Amazon guide.
Access to the Directory of IACFB Factoring 101 Freelance Consultants and Partners
Purchasers of the new Amazon guide now have access to a "Find a Consultant" feature so guide purchasers can enlist your services as a valued "local" consultant.  This is an open directory and DOES NOT require any credentials for viewing.
Where are the New Directories?
A website for support of the NEW Amazon guide for small business owners is at www.whenthebankssayno.com
For Factoring 101 Brokers:  Market for Agents with the New Guide to Factoring
The new factoring guide will be a potent lead generator for those career professional brokers who build and utilize networks of agents and the agency concept.  The guide is a Kindle publication priced at just $9.99 however, the guide is also enrolled in Amazon's KDP Kindle Select Program.  This means Amazon allows us to periodically (5 days out of every 90) offer the guide for FREE.  For those brokers who have been building their prospect lists for Sponsored Agents, using Factoring 202 training, those FREE days will represent a gold mine in assisting to build those important and powerful networks of lead generators.  It will provide you with the ability to email a link to the Amazon guide to your agent prospects which will in return provide you with a plethora of SQL or Sales Qualified Leads once your new agents are signed up.
Get Factoring Certified
For IACFB to take advantage of this lead-generating program, you must:
Be a Freelance Factoring 101 Consultant or an IACFB
Take and pass the 125 question Certification Exam
Have an operational FB-Series website or "Supersite"
The "Find a Consultants Directory" is limited to a particular city or, in some cases, a county.  While it is not a "protected territory, there is only one listing available for business owners to view and select.  IACFB Consultants are encourages to quickly take the Certification Exam and then claim their directory listing.
For Factors:  Marketing with the New Guide to Factoring
All factors enjoy a FREE company listing and a complimentary link to their website in the IACFB's Directory of American Factors and Lenders.  Those factors who are members of the IACFB will also benefit from the featured "Showcase" which will now be available on both the IACFB directories as well as the "Company Showcase Feature" found on the IACFB Magazine.  Additionally, all factors who are IACFB Members will enjoy advertising opportunities due to the lead generating capabilities of the new Amazon publication.