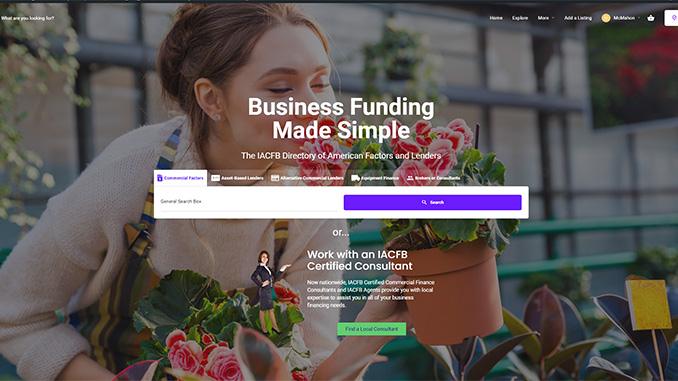 Looking for that perfect lender for you client in need of funding?  For industry factoring brokers and consultants, your search could not be easier than accessing the IACFB's Directory of American Factors and Lenders.  Although originally provided only for graduates of the IACFB Factoring Broker Training Academy, the new "searchable" directory is now available as a powerful new marketing tool for your broker or consultant business online.
Directory Listings
The IACFB Directory of American Factors and Lenders is primarily a resource for all industry brokers and consultant to assist in finding commercial factors and business finance lenders.  The directory has 4 main categories of listings;
Commercial Factors: (commercial factors and forfaiters)
Asset-Based Lenders:  (lenders providing loans on accounts receivable, inventory, and equipment)
Alternative Commercial Lenders:  (non-traditional lenders such as Merchant Cash Advance providers)
Equipment Finance Providers:  (equipment financing lenders and leasing companies)
Industry Brokers and Consultants:  (industry factoring brokers, business finance consultants, and cashflow consultants)
For listings of lenders, the directories are available to all verifiable industry factors and lenders without cost.  Since the directories are a feature and benefit of membership to the IACFB Academy graduates, brokers and consultants requesting a listing must be IACFB members.
A Searchable Open Directory of Finance for Business Owners
Since the IACFB directories are now "open", this resource has become a powerful resource tool for virtually all types of entrepreneurs and business owners in search of ready growth and working capital.  Additionally, because of the unique format of the directories, which not only provides access to categories of lenders but also provides detailed listings for local brokers and consultants, business owners can now easily locate "certified locals" that they can contact for valuable "face-to-face" help, meetings, and consultation to discuss their current financing requirements and options.
Lenders: How to Create Your Directory Listing
Initial listings in the directories are inserted manually be IACFB staff. Factors and Lenders listings are being recreated from IACFBs previous listing directories.  Lenders will be notified when your free listing is "active" in the directories and you will then have the ability to update the listing as required.  The standard directory "free" listing can be enhanced for broker contact with a "Lender Showcase" here at the magazine which only requires IACFB membership (recommended).
IACFB Members:  How to Create Your Directory Listing
For IACFB Members, your directory listing will also be created for you automatically.  Once active, you can add or modify to your listing by adding:
a logo, picture or you, or other image
Add to to business description (highly recommended)
Add your IACFB certifications (important)
Factoring Broker and Consultant Marketing Campaigns
For factoring brokers and all types of business finance consultants, the IACFB Directory of American Factors and Lenders is a powerful new marketing resource and venue this is available to you simply by being an IACFB member.  You can easily share your contact information, expertise, and certifications with others with prospects and social media.  With your listing's searchable information and hot link to your website, this new listing can be a highly beneficial prospecting tool and we will provide more "campaign" suggestions available to members in the Factoring 202 training area at the Academy.