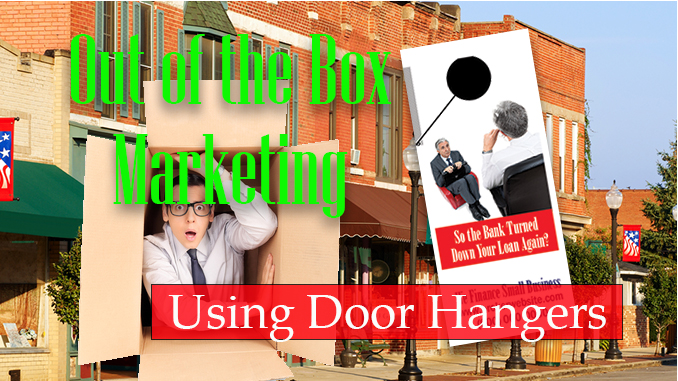 Are door hangers a great marketing method and lead-generator you've been over-looking?  Well, maybe so. Some savvy business owners swear by door hangers as the perfect way to introduce their services to local neighborhoods and to promote special deals and discounts.  But with all of the other print ads, digital ads, and direct mailers competing for your customers' attention, are door hangers actually worthwhile?  We think door hangers are a good fit as a ready tool for most freelance factoring brokers also for agents.  And here's why.
Marketing with door hangers is similar to with flyers except door hangers have a hook or insert that allows them to hang directly on handle of a door of a home or Door hangers great a prospect with a small ad instead of getting lost in the mailbox .  Print door hangers are usually on the smaller side, about the size of a regular rack card, so they can easily fit on people's doors.  Savvy "marketeers" are always seeking some method of standing out.  One way to stand out is to meet them at the door—with an eye-catching door hanger.  Many business owners find door hanger advertising to be an underrated way  to generate hype for their business and get paying customers.
Who Should Use Door Hangers
Almost anyone in business can use door hangers as a marketing strategy, but door hangers tend to add a "personal" touch to marketing. In fact, there's something inherently perfect about using door hangers that makes it best for small service businesses. Additionally, if you are just starting a business and on working on a razor-thin budget,  door hanger marketing can make a lot of sense.
Door hanger marketing also makes the most sense for businesses that are physically rooted in the community and that describes commercial finance consulting to a tee.. This type of campaign allows you to target B2B businesses who are relatively close by.  Door hanger marketing lend itself to business types that depends on the local community, and that is the perfect description of your finance consulting vocation.
Door Hangers Will Compliment Your Other Lead Generators
For factoring brokers and consultants (and even agents), well designed door hangers are the perfect tool to advertise an "offer", such as a Factoring Guide or Case Study.  For IACFB brokers and consultants armed with the FB Series DataMax websites, these small hanging ads are a great method of driving B2B business owners to your site to view and listen to your VIDEO salesperson and then download a copy of your FREE offer, "When Banks Say NO!  The Small Business Guide to Factoring".
Using Door Hangers in Today's Economy
One of the most important aspects affecting the success of of a door hanger campaign is the strength of your offer. Most agree that you shouldn't use door hangers just to raise awareness about the existence of your business.  Use your door hanger campaign paired with a your website's offer of the Small Business Factoring Guide.  Additionally, pair your door hanger campaign with a follow up mailer campaign with a cover letter regarding the many bank failures that have been recently experienced.  Building relationships with small business owners in your area in this difficult economy can do nothing less than lead to new accounts.  Currently, the banks are not lending to small business owners.  Inflation is at a breaking point for many small service sector companies.  It simply could not be a better time than right now to be a broker or agent in the factoring and alternative commercial finance industry.