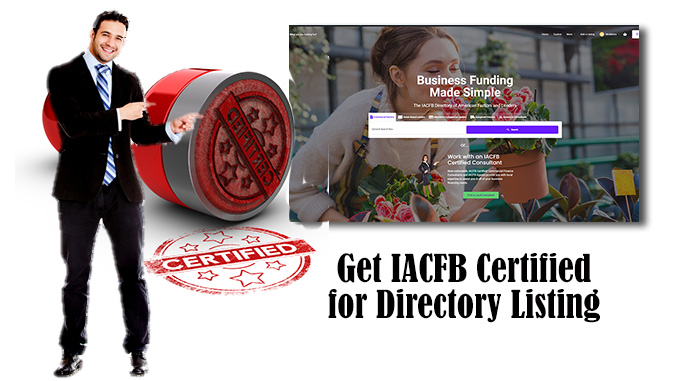 For factoring brokers and agents, a NEW and invaluable tool for achieving high levels of visibility and simply staying ahead of the competition if the new Directory of American Factoring and Lender.  This SEARCHABLE IACFB directory offers an array of benefits exclusively available to IACFB members, including the opportunity to connect with potential clients, share knowledge, and build a strong online presence. However, to reap the full benefits, it's essential to keep your listing up-to-date and make use of the valuable resources provided.
Enhance Your Visibility: In today's digital age, an online presence is a must for any business. The IACFB Directory allows you to create a professional and easily discoverable listing for your factoring services. Business owners and entrepreneurs frequently search for reputable factoring brokers and agents in their local areas. By keeping your listing current, you make it easier for potential clients to find you and consider your services.
Free Certification Exam: The IACFB Academy offers a free certification exam to its members. This certification not only enhances your credibility but also demonstrates your commitment to your profession. It's a stamp of approval that can set you apart from the competition. As a factoring broker or agent, updating your certification is a simple step towards showcasing your expertise and dedication to your clients.
Share Your Expertise: The IACFB Directory doesn't just stop at a listing. It provides you with an opportunity to share your knowledge and insights with your peers and potential clients. You can contribute articles to the directory's blog, offering tips, industry insights, and other valuable content. By doing so, you establish yourself as an authority in your field and gain the trust of potential clients.
Leverage Backlinks: One of the powerful advantages of listing on the IACFB Directory is the ability to link your articles to your business website and social media platforms. Backlinks are essential for boosting your website's search engine ranking and for driving traffic to your site. They provide a direct pathway for potential clients to learn more about your services and expertise.
Networking Opportunities: By being part of the IACFB community and regularly updating your listing and articles, you can connect with other brokers and agents in the factoring industry. Networking with peers can lead to collaborations, partnerships, and business opportunities you might not have encountered otherwise.
How to Update Your Listing
If you are an IACFB Member, you likely already have a listing in the directories.  That means local business owner can easily find and locate you by your state of operation.  Your initial listing is temporary and you need to…
Update update you listing "description".  We allow you to use up to 1,000 characters
Update you contact information.  Double check your phone, address, and email
Add your image.  Business owner want to see the broker they may be meeting with.  Send your image attached to factoring101@iacfb.academy.  We will crop it and insert it for your in your listing
Add information in description such as you availability to meet with clients and where your area of operation is..such as a multi county area
To update your listing…
Go to www.lendersdirectories.com
From the MENU on any page, select:  ADD YOUR LISTING > ADD YOUR LISTING NOW
SUBMIT
Get Certified:  Take Your Exam
Although all IACFB member qualify for listing, you be have taken one of the certification exam to be listed as "CERTIFIED".
Sponsored Agents:  Log into your training area at the IACFB Academy.  Access the PROFICIENCY EXAM (50 Question)  All question are taken from the Factoring 101 Training Manual
Factoring 101 Freelance Brokers:  Your Certification Exam is 125 questions and is available from the Factoring 101 Training Course at the Academy.
Commercial Finance Consultants:  Your Certification Exam is in the Factoring 303 Training Area.  The certification exam is 250 question.  You may opt for taken just the Factoring 101 Broker exam if you wish.
The IACFB Directory of American Factors and Lenders is a potent marketing tool for factoring brokers and agents that are aware of the directory's potent benefits.  The directories offer you the chance to enhance your visibility, demonstrate your expertise, and connect with potential clients. By updating your listing, taking the free certification exam, and actively participating in the directory's offerings, you can effectively position yourself as a go-to expert in the field and grow your factoring business. Don't miss out on the opportunities this directory provides – ensure your listing remains current and take advantage of the resources available to IACFB members.