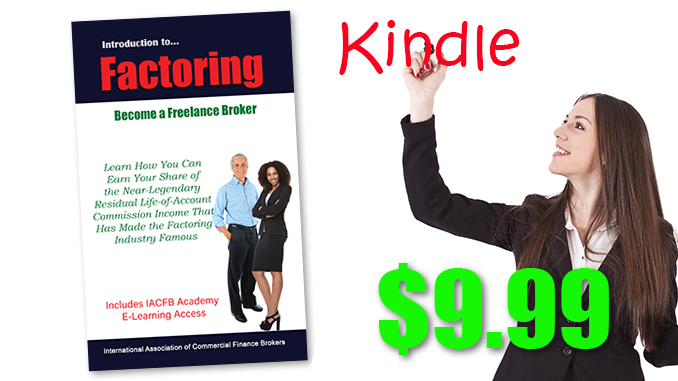 Well its here…the first of our new series of e-pub training guides for agents, brokers, and consultants.  Now you can learn our exciting business from the convenience of you cell phone, Amazon Fire, Kindle White and more with our upcoming series now available on Amazon.
Our first e-book in the IACFB series is "Introduction to Factoring" and it is the perfect primer for those that want to join the industry and are seeking a very low cost entry point.   This introductory text provides you with everything you will need to become successful as a part time agent.
With this new e-book series, you can download your essential e-books almost instantly, and you can start reading them within minutes. Home business entrepreneurs no longer have to go somewhere else to get a book physically, nor do they have to wait for them for prolonged periods.  You can now learn factoring and begin earning residual, life-of-account income streams from the convenience of your cell phone.
Limited Time Bonus Content
For a very limited time, purchasers of this E-pub Introduction to Factoring for just $9.99 on Amazon will be provided with an Amazon Event "promo" code for FREE IACFB Membership.  That means you will be given your $29.95 Annual IACFB Subscription absolutely FREE.  This is available for a very limited time as we roll out the training series so take advantage NOW!  Click the link below to visit Amazon.com.