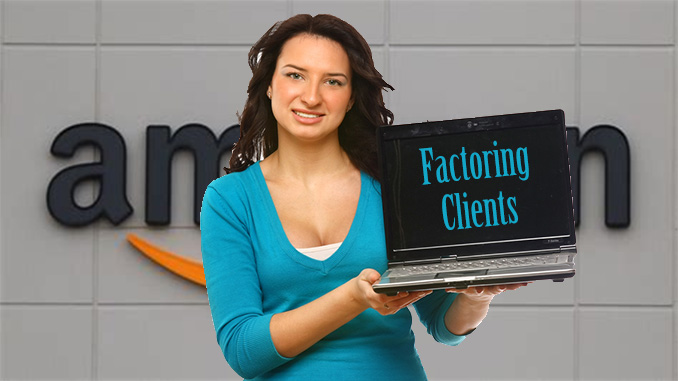 For many small businesses, Amazon represent a significant part of their sales channels.  In fact, for some entrepreneurs, Amazon is THE Sales Channel. However, Amazon 3rd party sellers often grapple with the challenge of waiting for payments from the retail giant. Every fulfilled order generates an accounts receivable invoice, and while Amazon promises payment 30-60 days in the future, the need for immediate working capital remains pressing issue for many To overcome this financial hurdle with Amazon, many savvy businesses are turning to ecommerce factoring,  And, for in-the-know factoring brokers, this under-the-radar sector can mean exceptional opportunities for lead generation and new clients.
With fast funding through ecommerce factoring, these small business owners can potentially access over 90% of the full amount of each invoice or the total of the Amazon vendor statement and do so almost immediately. Larger invoices or volume discounts may even result in a higher upfront advance.  For these creative Amazon sellers, factoring is a game-changer for them and can be for you, a professional factoring broker, as well. Many Amazon sellers are simply not aware of factoring and the benefits this powerhouse of financing offers by accessing working capital funds, which will otherwise be tied up for weeks or months, immediately.
As with all factoring transactions, the remaining portion, equivalent to the invoice or earnings statement amount minus the factoring fee, is securely held in reserve until Amazon settles the invoice. Once Amazon processes the payment and fulfills the financial commitment outlined in the invoice or vendor statement, the reserved amount is promptly forwarded to the business as well
Amazon's B2B Market Growing Exponentially
While most individuals relate to Amazon as simply and enormous B2C retailer, Amazon's B2B marketplace, Amazon Business, generated sales of about 19 billion U.S. dollars in the United States in 2020. And according to Statista, the value of products purchased on the platform is forecast to reach 59 billion U.S. dollars by 2025.  The rapid growth of the global B2B e-commerce channel offers big opportunities for business buyers and sellers….and factoring brokers.
A Perfect Opportunity for Factoring Brokers and Agents
Amazon's foray into B2B e-commerce has reshaped the landscape for many entrepreneurs, creating an environment where B2B sellers can connect and transact business seamlessly. The platform offers a plethora of benefits, from a vast customer base to streamlined logistics, making it an attractive avenue for businesses looking to expand their reach.
For Factoring Brokers, this is also a perfect opportunity for marketing and prospecting.  In fact, for brokers and consultants in to direct marketing. your "List Building" chores for creating prospect list could not be easier.  And although this is certainly a "factoring niche", there is no problem finding a factoring to work closely with when seeking out the perfect funding source.  The IACFB's new "Searchable" directories will provide you with Amazon Sellers as a "Preferred Industry" for a host of industry factors ready to work with you.
Get Involved in E-Commerce Factoring Opportunities
Factors with a focus on ecommerce factoring offer a strategic solution for today's fast growing members of Amazon B2B sellers looking to expedite their cash flow and overcome the challenges associated with delayed payments. By leveraging this financial tool, businesses can seize immediate opportunities for growth, ensuring that their operations remain agile and competitive in the ever-evolving landscape of e-commerce.  And who better to make these small business owners aware of the power and availability of this popular business financial tool than you, a professional broker / consultant.