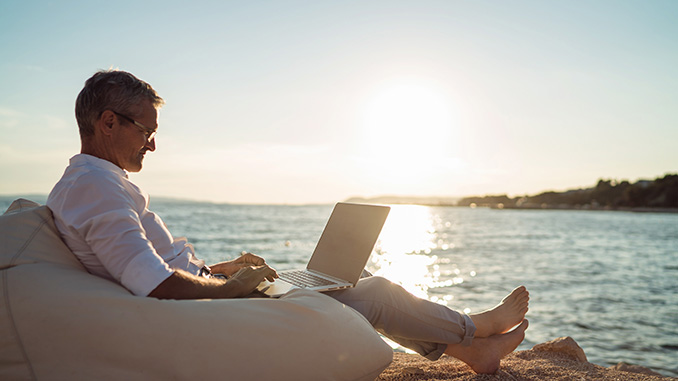 Becoming a blogger can be both exciting and financially rewarding.  And, of all today's home businesses available for you to choose from, blogging stands out as a lucrative venture that opens exciting (and unlimited) opportunities. Through blogging you can share your interests and passions, but you also establish yourself as a recognized expert in some field or subject and then earn a part-time or full-time income posting beneficial content for those in need.
So…What is a Blog?
A blog is a website that publishes frequently updated content or articles.  Blogs have a subject and that subject can be about anything or everything and the term "blog" is short for weblog or web log referring to logging in periodically to post content.  In the early days of the internet, blogging was compared to journaling, or posting records of events.  Blogging has since evolved and has become much more than just keeping digital ideas.  They are often started with an audience or specific subject in mind, which guides all content creation. Though the topics can vary dramatically, the sole purpose of a blog is to connect the author with a relevant target audience.  Both modern businesses and individuals now create blogs to share information and to bring in sales or commissions.
Then…What is a Financial Blog?
As the name applies, a Financial Blog is a website that deals with finance.  But, what kind or type of finance?  What will be your niche?   Well, that's up to you.  But typically successful bloggers narrow down their subject matter.  Successful bloggers do not try to become "all things to all people".  On the contrary.  Successful bloggers will focus on a particular subject and the become an expert on that subject.  For example, worldwide business finance is an expansive subject and you can post volumes of related subject matter.  Factoring, as a form of finance, is much more defined.  In fact, it will be very easy to become a successful blogger with a factoring blog site simply because you have nearly unlimited sources of content by simply being an IACFB Member (International Association of Commercial Finance Brokers).
Step by Step:  How to Get Your Factoring / Factoring Blog Started
Most successful bloggers earn commission income.  And, if you know a little about factoring, you know that factoring pays brokers residual monthly commissions.  So if you're ready to start earning residual income, you want to start a blog for literally "pennies a day" but don't know where to start, these steps will set you up for success and point you in the right direction.
Defining Your Topic:  For most new bloggers, finding a niche can be tough or feel limiting.  But, for you it is different.  Starting off with factoring as your chosen niche will help you quickly build strong credibility in both the short and the long term.
Define Your Audience:  As an audience, you will primarily have an automatic audience of B2B business owners.  You can, however, make your blog more specific.  For example, factoring is a "stand out" type of financing for new or young companies that cannot access traditional bank loans.  Should you focus your blog on "Start Ups".  Do you focus on "Service Companies"?  So you focus on "Minority Business Enterprises"?
Name Your Blog and  Your Domain:  While many think of this task as two different things, it is not.  This is part of branding and for success, they go hand-in-hand.  Your domain (URL) is your address on the web.  It should be easy for followers to find you.  It should be easy to remember and as short as possible.  This may take some trial and error to find just the right combination but it will pay dividends.
Set Up Your Domain, Hosting, and Install WordPress:  Once you have decided on you names, it is time to set up your blog.  This will involve

Go to DataMax Hosting and check for the availability of your domain.
If available, scroll down to set up your hosting account.  We recommend "WordPress Blogger" as very affordable with many benefits
DataMax will install WordPress as well as many beneficial plugins (such as Yoast SEO) and Elementor (Drag and Drop Editor) to give you complete control of your blogs "look and feel"

Publish Your First Blog Article:  You're now in business.  You've built your blog site and are satisfied with its look and feel.  It's now time to upload your very first article. With WordPress,  you can type and edit your content right from your site's back end or "dashboard".
Building for Success
Starting a blog can be one of the most lucrative businesses available for not only today's mobile creatives, but also those that will be learning more about their computers as they also learn this business.  Blogging can be a fun but also a profitable way to connect with others.  Though maintaining a blog requires work, patience, and persistence, it will definitely pay off.  You will find you will be wearing a lot of hats as you learn this business, but you are also learning as you find better and better ways to control your financial destiny.