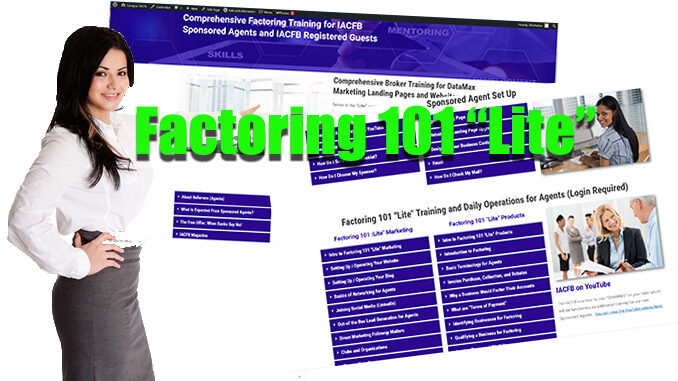 What is Factoring 101 Broker Training?  Well arguably Factoring 101 is the most successful training program available to those mobile creatives who luckily stumbles upon this exceptional home-based business.  The fact is, there are very few that have discovered this unique under-the-radar business opportunity.  And even then, even fewer understand it once they find out about it.  The one thing that most do understand, however, is that it involves something referred to as "residual commission income" and when it comes to income, there is nothing like businesses that feature residual payments for work.  Talk to any individual who is employed in the insurance industry and watch their eyes light up when you mention residual income.  It literally is how you build you business and career.  A while there are many, many ways to get training and launch a business as an agent in insurance, there is no realistic (affordable) way to get training in the factoring industry other than Factoring 101 at the IACFB (International Association of Commercial Finance Brokers).
Factoring 101 "Lite"
So if Factoring 101 is the way to get into the industry affordably, what is Factoring 101 "Lite"?  Factoring 101 is a very in-depth program for those career-oriented individuals that know for certain that they want to enter the industry.  It is very comprehensive and it requires some expense.  The "Lite" version of Factoring 101 is a training program specifically for IACFB members and is offered as a FREE course as part of IACFB membership.  It allows new members that are first exploring the many options they have  to get involved in the industry and to begin earning these passive income streaks of "residual" commissions.  Factoring 101 "Lite" instructs you in factoring…plain and simply.  This course focuses your factoring education on not only the factoring products itself, but also how to generate your first clients through networking.  Roughly 50% of all new commission-generating new clients are the product of networking, ether face-to-face networking or networking on social media.  Factoring 101 "Lite" provides you with 100% of the start up tools needed to begin your new business.  And this training as without cost for all new members at IACFB.
Factoring 101 Broker's Guide
As part of Factoring 101 "Lite", you additionally receive the 5-Star "Broker's Guide to Factoring" in PDF format.  This popular guide sold roughly 800 copies on Amazon in bound / print format and many thousand as a PDF download.  The guide is over 200+ pages of for comprehensive content with rough one half dedicated to teach you about factoring and alternative commercial finance and the other half on how to get started in the industry and earn your first residual commissions as an industry broker.  The guide is still available in bound print format to all new IACFB Members as an "Add-On" when you subscribe.  (FRE shipping in Continental U.S only.)
Factoring 101 Websites
So with Factoring 101 "Lite" training, are there compatible websites that can help you get in to business immediately?  There again, the answer is YES!.  IACFB provides both complete Word Press websites and also landing pages from DataMax Marketing Systems, that provide the exact sites required for your home business based on how you intend to operate.  Whether you intend to run your business as an affiliate marketer generating online commissions 24/7 or are going earn true residual passive income as a professional consultant, DataMax provides websites at significantly discounted prices to IACFB members.  All websites no include lead-generating VIDEO as well as built in offers to generate leads and prospecting opportunities.
Get Involved 
Have you discovered the world of factoring and are ready to learn more?  If so, there is know better way than to subscribe to the IACFB Academy as a new member, download your Factoring 101 Broker Training Guide, and then complete the included free Factoring 101 "Lite" course for new industry brokers.