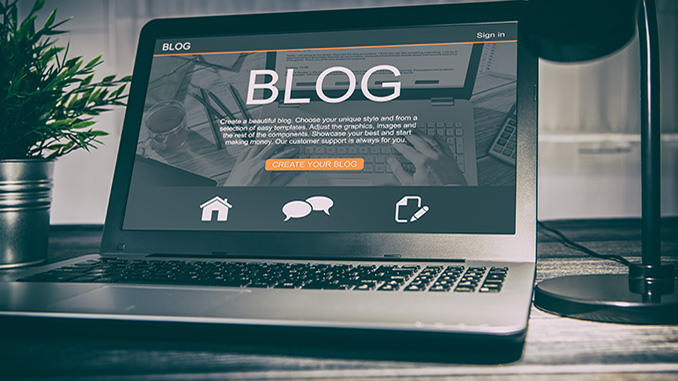 For Commercial Finance Consultants, Factoring Brokers, and Sponsored Agents, hosting an active blog on your website is seriously important.  For some in fact, you can view blogging almost essential to your success.  Not only do consistent posts to your blog make you an expert in the eyes of readers and makes it easier for your website (and you) to be found.  All factoring brokers and consultants know they need a business website.  But what is the best way to get help from Google and other search engines to index you so your potential clients can find your site?   Well the answer to that question is simple.  It is the posts and content in your blog.
Search engines are realistically all about content and content marketing.  Content marketing is the process of publishing written and visual material online with the purpose of attracting more leads to your business.  This can include your website's pages and videos,  But how often to you change that content?  For most, the answer is seldom or even never.  There is nothing NEW for Google to see.  You need new content and you need to post new content often.  And that is the job of your blog.
Spicing Up Your WordPress Blog on Elementor
The vast majority of websites for Factoring Brokers, Commercial Finance Consultants and Agents will be platformed using WordPress  and a modern drag and drop page builder/editor such as Elementor.  And the great news is that all WordPress installations include a "ready to go" blog.  In fact, setting up your blog is so easy you don't have to have one technical bone in your body to be up and blogging almost immediately.  But, unfortunately, the standard WordPress blog is, to be honest, pretty mundane and run-of-the-mill.  You want your visitors to be impressed with you and your site so you need to "spice up" your blog's look and feel.   Well with WordPress, that's also easy.  You simply need to add a plugin to make your blog stand out in the crowd and here are 4 you can do that.
PREMIUM ADDONS FOR ELEMENTOR
Elementor is a powerful website builder for WordPress that makes it easy to create beautiful, modern websites and blogs. But with Premium Addons for Elementor, you can unlock even more features that will help your website and blog stand out from the crowd. From advanced typography tools to powerful design elements, Premium Addons for Elementor offers something for everyone and can help take your Elemntor -designed website to the next level.
ESSENTIAL ADDONS FOR ELEMENTOR
Essential Addons is an Elementor addon plugin developed by WPDeveloper who are also the developers behind many other popular WordPress plugins.  With Essential Addons, WPDeveloper adds over 70 widgets and extensions to the Elementor page builder. This includes all kinds of widgets that will help you make your page more beautiful and stand out when building with Elementor.
ELEMENTSKIT ELEMENTOR ADDONS AND TEMPLATES
ElementsKit is a comprehensive plugin that offers a wide range of addons for the WordPress page builder, Elementor.  By activating ElementsKit, users can enhance their Elementor page building by accessing an extensive collection of over 90 advanced widgets and extensions.  This addon includes a variety of impressive features, such as advanced parallax effects, off-canvas content, social feeds, a header and footer builder, content toggles, and more.
ROYAL ELEMENTOR ADDONS AND TEMPLATES
Royal Elementor Addons is one of the most versatile, intuitive, and easy to use extension for Elementor.  This addon package offers an abundance of customization features and options to suit your websites unique needs. With a wide array of widgets and extensions, you can design your website to perfection and if you want to create visually stunning headers and footers as well as the ability tp spruce up your product pages and blog posts, Royal Elementor Addons has got you covered.
Blogs and blogging has become one of the biggest parts of the internet.  Virtually all successful businesses do it…and  your MOST successful consulting competitors do it to.   For new factoring brokers and consultants, blogging is one of those "must-do" things you should be doing, but you probably aren't.  And that…is a BIG mistake.
We are providing more and more tips and helps on blogging for lead generating in the Factoring 202 training at IACFB Academy.