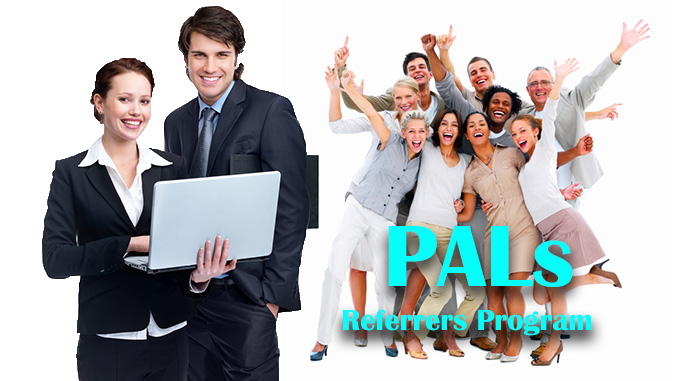 The PALs Program at IACFB is a special training course that is associated with the Academy's Partners Program and IACFB Wholesale Operations.  PALs is a complimentary enhancement program for IACFB Members.  The PALs course includes..
An affiliation with an EXISTING PALs website (operated by IACFB or an IACFB Partner
Basic ONLINE Training (Boot Camp)
The Factoring 101 Brokers Training Guide
Special access to "PAL" articles provided through IACFB Magazine
Associated Costs for PAL
PAL is a FREE add-on for IACFB Members.  Since all PAL referrers work through existing IACFB Partnership websites, there are no additional domain costs or hosting fees with PAL.
Requirements for PAL
There are no requirements for inclusion in the PAL program and training course.  IACFB must, however, have an existing IACFB furnished PAL operational (website) in your geographic location.  While we provide a PAL Proficiency Exam which accompanies your training course, the exam is completely optional.
PAL By Invitation
Most referrers accepted for PAL join when receiving an email notifying the availability of an operational PAL in their area.
PAL By Request
IACFB newsletter subscribers may request a PAL become operational in your nearest city/location.  Once operational, additional PAL referrers with be added.
PAL Benefits
The PAL Program offers IACFB members the ability to become affiliated with IACFB Wholesale and an IACFB location website.  This allows members to reap the benefits of a $400 IACFB SuperSite but without the capital outlay or hosting expense.  All IACFB Members in the PAL Program are listed as "agents" on the PAL Supersite.
Request the PAL Course
If you have received an invitation to PAL, it means we are already operating a PAL site in your location or will be very soon.  While there are no strict limitations very PAL referrers in any given location, cities with small populations will be limited.
To request access to the PAL Course at IACFB Magazine, simply click the ENROLL NOW button below.