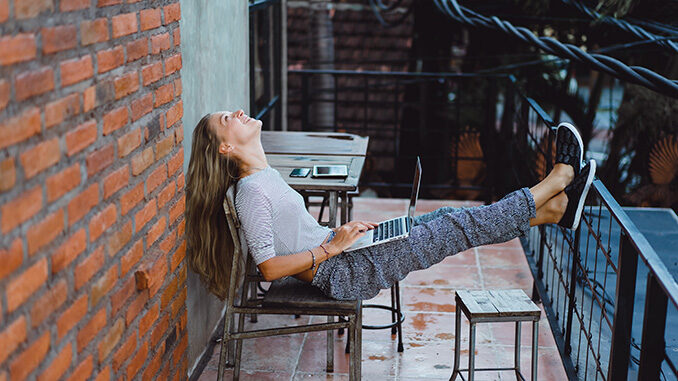 Selecting Your Side Hustle Type
So when it comes to the current economy (and survival in it), there may come a time when you realize that a home-based side hustle is the right decision for you.  Once you decide that, you basically have three (3) hustle "types" to choose from.  They are…
Hustle 1: Working from home doing a job or service for someone else.  This is a work from home job where you would be an employee or private contractor for a company where you will be performing specific tasks they give you.  A example of this is a home-based bookkeeper  here This you will probably have specified hours you will need to work and the pay is likely going to be hourly.
Hustle 2: Running your own local business out of your home. With this option, you will run some type of a service-based business out of your home, such as an Instacart Shopper or Dog Walking business. These types of business can be great side hustles. They are trading time for money (you get paid for each job you accept) but you can completely choose when you want to work and you are the boss.
Hustle 3:  Working from home running your own online business.  You are an entrepreneur with your own business that you typically run from a home office on the internet.  Examples of this would be running a blogging business, being an Amazon affiliate, and running a reselling business.
Factoring Broker:  Where Does This Side Hustle Fit In?
So when it comes to side hustles, where does the popular "home business" of factoring broker fit in?  Well actually, this is a business that can be practiced in all three ways.  For example, once you have the necessary training and have sent a reasonable number of deals to a factor, it is not all that uncommon for you to be able to become a BDO (business development officer) and represent the factor in your geographic area.  Most successful brokers will turn down such offers simply because the "freelance" career is more attractive from an income standpoint.  And…the goal here is income.
When it comes to factoring, you will find that the difference between "Hustle #2 and Hustle #3" is just a matter of your preference.  From it comes down to your chosen method of work, it is all about how you choose to market your consulting business  Surveys taken year after year in the factoring industry reference the fact that roughly 50% of all new clients are sources by direct marketing (cold calls, face-to-face networking, face to face appointments, etc.) and the other 50% are the result of social media and relationship building.  So if you are "active" in your community attending clubs, events, etc on a part-time basis, Hustle #2 is right for you.  If you are strictly active in your spare time on social media, then Hustle #3 is your right choice.
Income Potential
While making money from a home-based side hustle can be simple, not all methods are created equal.  For example. if you work a job for someone else and for a salary, you're likely going to make less than if you're providing your own services. As an online employee, you'll likely be paid by the hour. With your own services, you can charge more and can increase your hours when opportunities present themselves.  The highest income potential is in running and owning a business because you will learn to stop trading your time for money and start leveraging your time and skills to increase your income potential.
Another thing you will need to consider when selecting your side gig is how fast you need to make money.  For example, do you have a little savings and start up capital already or do you need to make money quickly?  This can affect how you structure and launch your business.
Training at IACFB
One of the most important tasks you will face when deciding to launch a new side gig business is training.  For most, you will need to learn something about the business.  For example, even a very easy side gig such as becoming an Amazon Associate will require some education and acquiring new skill.  Anyone can earn monthly income from selling on Amazon, for example.  But you will need to learn some very basic website skills so you can display your products.  Factoring is no different.  You will need to access some financial training at IACFB's Academy and you will also need to learn a little regarding posting website articles and how to generate leads from those articles by posting content on LinkedIn, Twitter, or other social media.
Explore Your Side Hustle Today
Factoring offers an exceptional opportunity for those seeking a high income part-time opportunity for a home-based business.  Regardless, however, investing in some kind of side gig in today's challenging economy is actually becoming essential for many individuals.  If factoring and business finance is right for you, learn more about the unique, under-the-radar career at www.iacfb.academy.