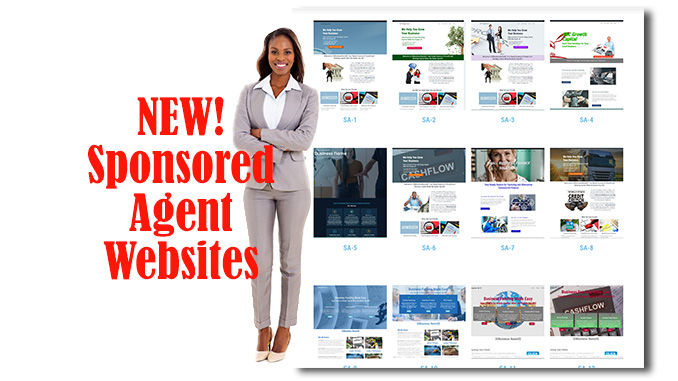 While career Freelance Factoring Brokers continue to play a pivotal financing role for clients at the International Association of Commercial Finance Brokers (IACFB), Sponsored Agents have now become the most popular training and support program we offer.  Unlike their freelance career brethren,  Sponsored Agents work as part-time professionals who primarily market for business finance clients through social media and networking. With the introduction of IACFB's new WordPress agent website templates, we now have provided our agents with an expanded suite of financial products supported by their websites.  This include products such as merchant cash advance financing, SBA loans, small business term loans, and equipment financing. This innovation opens up exciting new opportunities for Sponsored Agents to diversify their offerings and reach a broader clientele.
Merchant Cash Advance Financing: The new templates empower Sponsored Agents to showcase their expertise in merchant cash advance financing. With engaging content and information readily available on their WordPress websites, they can attract business owners in need of quick and flexible financing solutions. Detailed product pages, success stories, and blog posts can effectively educate and engage potential clients.
SBA Loans: Sponsored Agents can now provide valuable insights into Small Business Administration (SBA) loans through their websites. They can explain the intricacies of SBA loan programs, eligibility criteria, application processes, and the benefits of choosing these government-backed loans. This valuable information can serve as a resource for entrepreneurs seeking reliable financing options.
Term Loans: The inclusion of term loans in the offerings allows Sponsored Agents to tap into the market of businesses looking for structured, long-term financing solutions. Agents can utilize their WordPress websites to explain different types of term loans, interest rates, repayment terms, and how these loans can support the growth and stability of businesses.
Equipment Financing: For Sponsored Agents interested in equipment financing, the new templates offer a platform to detail the benefits and processes involved in acquiring equipment financing. These websites can feature case studies, testimonials, and informative content to assist businesses in acquiring the equipment they need to succeed.
Diversification and Client Attraction
The ability for Sponsored Agents to represent additional financial products enhances their ability to diversify and attract a broader range of clients. By offering a one-stop destination for various financial needs, they can position themselves as trusted advisors in the financial services sector. Whether it's a startup seeking merchant cash advance financing, an established business exploring SBA loans, or a company in need of equipment financing, Sponsored Agents can now cater to a wider audience, expanding their client base.
Educational Content
The WordPress templates also support Sponsored Agents in creating informative and educational content. Blog posts, FAQs, guides, and informative pages can help clients better understand the financial products being offered. Clients can feel confident in their financial decisions, knowing that the Sponsored Agent is a knowledgeable resource who genuinely cares about their success.
Networking and Social Media
Sponsored Agents, who predominantly market through social media and networking, will find these websites to be valuable assets. They can share blog posts, product information, and success stories on their social media profiles, effectively engaging their audience and attracting potential clients to their websites.
Upgrades for Existing Agents
IACFB's new WordPress website templates for Sponsored Agents represent a significant step forward in empowering these part-time agents to broaden their horizons and diversify their services. By including merchant cash advance financing, SBA loans, term loans, and equipment financing, Sponsored Agents can cater to a wider clientele. With their online presence reinforced, they can effectively market their expanded offerings, provide valuable information, and grow their network of clients. These templates not only benefit the agents but also contribute to the overall mission of IACFB to promote excellence in the commercial finance industry.
For those existing IACFB agents utilizing a previous WordPress website version, IACFB is providing a FREE upgrade along with an IACFB Partner Sign Up form.  To get all the details, log into the Sponsored Agents Training Area at the IACFB Academy.
These templates come equipped with video integration, blog starter articles, and a dedicated page to list the types of businesses they finance. Let's explore these website templates and discover how they can benefit IACFB's sponsored agents.